Paternity Testing Corporation opened in 1996 in Columbia, Missouri.
Paternity Testing Corporation is one of the largest by volume DNA testing laboratories in the United States.
In 2005, we made the decision to expand into Asia, to include Japan. Paternity Testing Corporation Japan is based in Urasoe, Okinawa Japan.
Accreditations
There is no law that requires a DNA paternity Testing laboratory to be accredited. Accreditation is the only assurance that an individual has that the DNA paternity test they will receive is legitimate and is performed in a manner likely to give a reliable result.
There are just a few accreditations that are significant to DNA paternity testing. By far the most important one, for testing performed in the United States, is accreditation by the American Association of Blood Banks (AABB) for DNA relationship testing. Paternity Testing Corporation has the following accreditations, and there are no other accreditations that would indicate any higher level of DNA paternity testing expertise.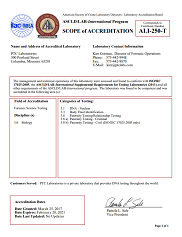 Forensic Quality Services—ISO 17025---Paternity Testing Corporation possesses the ISO 17025 international accreditation for paternity and forensic testing. This is significant for paternity testing for individuals residing outside of the United States. Some countries will require this to have the DNA result hold up in a court of law.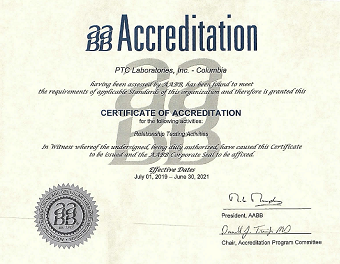 American Association of Blood Banks (AABB)---Paternity Testing Corporation is accredited by the AABB. The AABB makes on-site inspections of our DNA paternity testing laboratory every other year. They make certain that every accredited laboratory is following accepted procedures.